Russell Westbrook Altercation Sends Message to Society Bigger than Basketball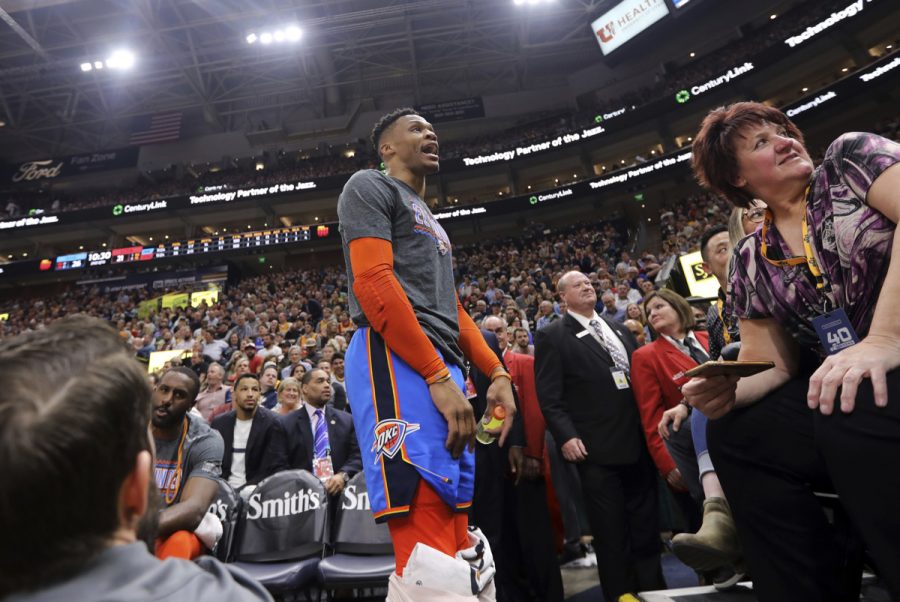 Dylan Cottrell, Staff Writer
April 5, 2019
On March 11th, 2019, a Utah Jazz fan, later identified as Shane Keisel, insulted Oklahoma Thunder star player, Russell Westbrook with racist remarks which resulted in the fan being banned from the Vivint Smart Home Arena.  
A video of Westbrook stating choice words to Keisel and his wife from the Thunder's bench went viral leaving the point guard emotionally heated paired with a $25,000 fine. The discriminative and offensive fan heckled him with racial comments stating, "get on your knees like you used to," reportedly from Westbrook's post-game interview.
The fan interaction left the Thunder star viewing the comments as highly offensive and racist to not only him but his family, as expressed after the Thunder's 98-89 road win. Another allegation of a male fan yelling out, "boy," to Westbrook resulted in another ban that same night from the arena by the Utah Jazz Organization.
This is not the first time Westbrook has had problems with Utah fans. Last season, he was shown slapping a fan's phone out of their hands at the end of game 6 in the first round of playoffs last April. Such situations have left not only Westbrook with a negative perspective on Jazz fans, but several NBA players around the league, including Utah's very own Donovan Mitchell, who commented on the issue via Twitter.
Reflecting on the altercation Westbrook states, "if I would have had to do it all over again I would say the exact same thing." Furthermore, leaving reporters with a strong message of his determination to stand up for himself and his family every time something like this occurs while expecting everyone else to do the same. He acknowledges that he takes criticism from everybody, but disrespect from nobody. Questions continue to stir throughout the NBA and social media not only on whether Westbrook deserved the fine but when hate speech and racism will finally come to an end.
Blatantly violating the NBA Fan Code of Conduct, the Jazz organization's bans send a message of severity towards the issue and how uncalled behavior will not be tolerated. Calling for further action, team owner, Gail Miller, highlighted the poignancy of the issue while delivering a heartfelt pregame address the following home game to fans and people around the world stating, "no one wins when respects goes away."