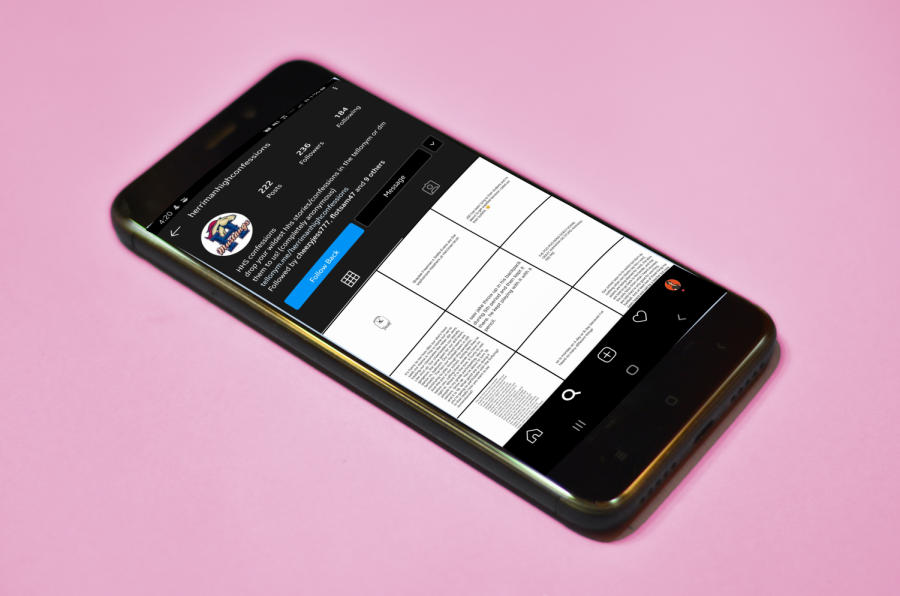 HERRIMAN— There have always been various Instagram accounts for Herriman High, some of which are (but not limited to): yearbook, the mountain biking team, choir, and even one for our newspaper. It isn't surprising when one @herrimanhighconfession made its appearance soon after the reopening of Herriman High School.
These confessions ranged from crushes, shout outs, and self-promotion until August 26th, after the opening assembly, when choir, Dance Co., ballroom team, drill, and cheer all performed for the student body. One anonymous user sent in a controversial opinion about how the performers didn't wear masks. This went on to spark a heated debate between both the marching band and the performing teams.
This leads one to ask, "Did @herrimanhighconfession set out with the goal to encourage discussion," and "Should anonymous discussion boards be used for students to talk about these key issues."
I started first by interviewing the @herrimanhighconfession page runners to hear their thoughts on the matter.
I was curious as to the nature of your account. It pretty much blew up overnight and I was wondering what the initial goal or hope for the making of this high school confessional was?
"We always knew that there were tensions at Herriman. We could always sense how certain groups were segregated. The level of competition is outrageous, and I think this account has brought a lot of these issues to the surface. We never thought this account would get this much recognition, let alone in such a small amount of time. We never had a goal, part of this was a joke. People are telling us to bring it down because of bullying and stuff; however, we are only the ones who are posting it, everyone else is saying it, we are merely the messenger."
Of course, there comes to be a line between letting people express their opinions and hurting another. Has there ever been a confession that you or your group decided should not be posted? If so, where do you draw the line?
"Nothing has shocked us too much, to be honest. People have been fighting about sports teams and stuff. These are not deep issues, most of the time it was people sharing their opinion on the marching band or drill team. Then a member from one of these teams would clap back with something else. I can understand how it could be upsetting to hear someone say something bad about your hobby, but these are not your livelihoods, to us it's not that deep."  
Do you see the potential drama being brought up in school because of your account? 
I think if anything becomes physical, it won't be because of the account. People would have had to feel about it prior to this account being created. This account would have been a catalyst.
As of September 3rd, the account has been abandoned, the page runners are allegedly two girls from Melbourne, Australia and have never stepped foot into Herriman High. This confession upset many but also brought attention to some important issues at Herriman High. There are various cultures and values that clashed in the few days the account ran. It left students without resolution, and many feel more divided than before.
The internet allows people to be anonymous, and the "digital personas" may feel less inclined to follow the rules of their society because they have nothing at stake. This can be a positive and negative force, as we've seen with @herrimanconfessions, despite the hyperbolic messages there were some that bring up the many issues in Herriman such as racism, LGBTQ+, and political ideologies within the student body.
If not for the confessions, these problems may have never surfaced, but should we utilize it? I asked a few students about their opinions on the matter.
A Herriman high senior, Brooke Walker said, "I feel like the HHS Confessions account is a horrendous thing. It's putting people down and making them feel bad about themselves, which is not what we need, especially in high school…If it was me, the confessions account would be down already. It's too much for the high school brain to deal with."
However, Adalyn Buchard countered "If the concerns are legitimate to school issues. Having an area for political ideas is amazing and fine, but to speak about them on an account dedicated to school topics is not the best idea. I know that the account is run by students, but it could be so much more useful than [@herrimanhighconfessions] currently is." 
So, the question is, "how can students use the idea of confessions to start conversations that could help Herriman High grow as a community?" Adalyn puts, "I think [@herrimanhighconfessions] could definitely acknowledge what is being said and take that into account. It should be used as an opportunity for growth and not a place to spread rumors."
As a consensus-based off of the students I interviewed there is a fear of being shut down and that their opinions will be ignored; however, Herriman should work on becoming more open to conversation because nothing will change if nothing is known. 
If there is a problem you want to talk about, there are a multitude of different places where you can bring it up. 
First of all, we do have a crisis and tip hotline. The SafeUT Crisis Text and Tip Line is a statewide service that provides real-time crisis intervention to youth through texting and a confidential tip program – right from your smartphone. https://healthcare.utah.edu/uni/safe-ut/ 
The Administration is easily contacted, if you have questions regarding policies or school issues setting up an appointment with the secretaries takes a few seconds.
We as a student body can change the perception of our school to be something better and make it a welcoming place for all, despite our differences. We can strive to be the people that learn from the faults of the past and grow from it