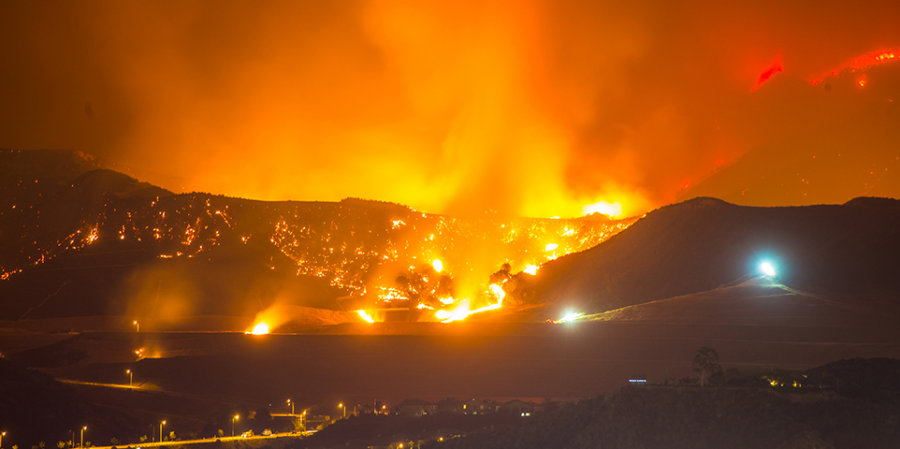 As of July 14, 2021, we are at a level 5 national preparedness. This is from a scale from 1-5, 5 being the highest. As many as 104 Wildfires have spread all across the country and already burned 4,575,051 acres, most of it on the western side of the United States. And increasing winds and really dry months only increase the size and range of the fire.
Furthermore, the wind blowing all the smoke has made the quality of the air so bad that it's over 150 AQI. With the weather beginning to cool down, the wind speeds will hopefully decrease. With the cooler temperatures coming around the large fires will also likely begin to decrease in speed.
Historically, Canada and the United States have shared firefighters, resources, and have made plans to combat these kinds of disasters made by both countries These recent fires, however, are highly unpredictable and have made it extremely difficult for the U.S. and Canada to work together. 
There is no single prescribed date for the start of the North American Wildfire season. So it leaving the public in the dark and sometimes getting the news when it's too late.
Factors that increase the speed, spread, and damage can greatly increase the dangerousness of the fires. Factors that affect the speed involve them moving more rapidly up the slope and preheating unburned fuels and making them more combustible. With the wind as a factor as well, it makes the fires really effective moving up a mountain.
These fires have gotten so bad it's affecting the sage grouse population which is a native bird to the western side of the united states are in danger and have been declining ever since the wildfires have been burning down the woods, and habitats and altering the rivers with landslides, also causing floods with the ash and burnt woods also falling into the water it affects the salmon population that need to be in cool water to survive. Deer getting hit by cars has also increased. And foraging for food will only get more difficult for the animals as these wildfires progress. 
On August 30th parts of Nevada had an AQI score of 452.AQI–scores this high are very dangerous and are unsustainable for the human body.
AQI, or Air-Quality-Index, is how we can tell how bad the quality of the air is many other countries use a similar system they have in place. 
Experts say that to prevent the damage that these fires are causing to the human body we must stay indoors, not do any outside activities or exercise and keep windows and doors closed to stop the dirty air from coming inside.
Effects that come from breathing bad air can irritate the eyes, nose, and throat–causing shortness of breath, aggravating asthma and other respiratory conditions, and affecting the heart and cardiovascular system. Breathing polluted air for long periods can cause more serious problems.