Capitol Building Attack
January 6, 2021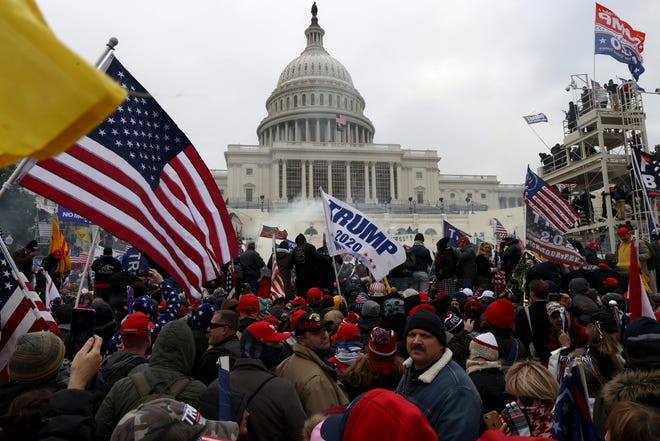 At 1:20 (EST) this afternoon, a large mass of pro-Trump supporters gathered outside the Capitol in what began as a riot, but ended up being a successful attack and 'breach' to the building. The protest was in retaliation to the House and Senate gathering to finalize President-elect Joseph Biden as the victor of the electoral college.
 "While most in the crowd were relatively peaceful," according to the New York Times, many were yelling profanities at the police and news reporters while some even began to help each other climb over the walls surrounding the front lawn of the Capitol Building. Videos from the scene at the Capitol show police spraying some kind of substance at the protestors, a group of which were grabbing a metal barricade away from officers in riot gear. 
An hour later, around 2:15, protestors bearing Trump flags breached the Capitol, resulting in a forced closure of the Senate. Senators tried to leave and locked themselves in various chambers. As the rioters were storming the building, Washington D.C. mayor, Muriel Bowser, issued a city-wide curfew set to be 6:00 pm. 
Once they reached the inside of the Capitol, the protestors were roaming hallways, breaking into offices, taking paintings off the walls and destroying papers and other artifacts. On the outside, people were smashing windows and breaking down the wooden doors. 
President Trump wrote on Twitter, urging his supporters to 'remain peaceful'.
I am asking for everyone at the U.S. Capitol to remain peaceful. No violence! Remember, WE are the Party of Law & Order – respect the Law and our great men and women in Blue. Thank you!

— Donald J. Trump (@realDonaldTrump) January 6, 2021
Mike Pence responded shortly after Trump's tweet, "The violence and destruction taking place at the Capitol must stop now." He said that all those participants would be punished to the full extent of the law.
We condemn the violence that took place here in the strongest possible terms. We grieve the loss of life in these hallowed halls, as well as the injuries suffered by those who defended our Capitol today.

— Mike Pence (@Mike_Pence) January 7, 2021
The President-elect, Joe Biden, called on President Trump to denounce the protest and "demand an end to this siege." He stated that the attack on the Capitol was "an assault on the rule of law like few times we've ever seen it." 
Trump responded by issuing a video urging the protestors to "go home in peace". In the video, he also continued to say that the election was fraudulent. There were some tweets that the President uploaded, around 6:00 pm, that were quickly removed from the platforms by the social media sites in an extreme measure, saying that the election was stolen from him, and that supporters needed to "remember this day."
The counting of the electoral college votes has resumed since the protestors were removed from the premise of the Capitol building.