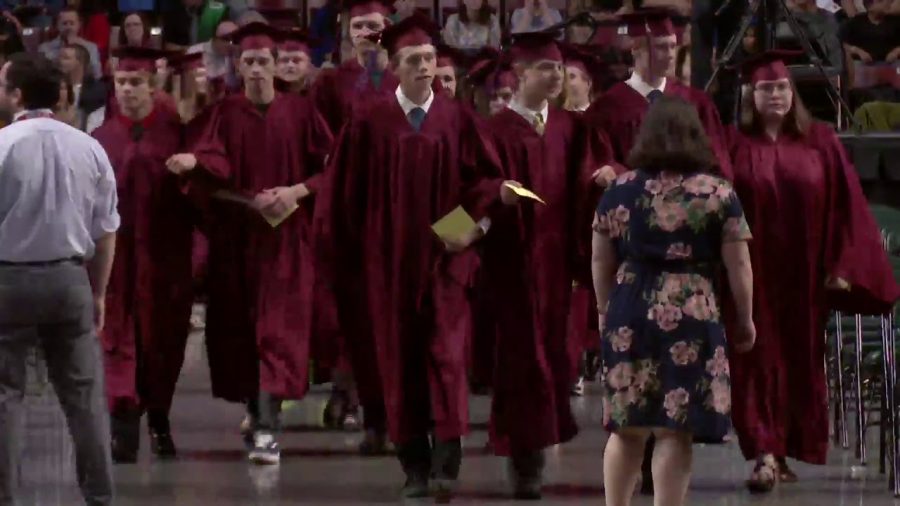 Graduation Speculation
March 25, 2021
2020-2021 has been a hard school year for all students and educators, especially for seniors, but there is a potential light at the end of the tunnel. The possibility for an amazing graduation is on the table; it may not be the graduation ceremony in the Maverik Center that past senior classes have grown accustomed to, but the possibilities are growing as time goes on and regulations recede. 
By consensus, from both Principal Quarnberg and several Student Body Officers, we can determine that a graduation parade is set in the plans for this year's graduation ceremony. Last year, "we had so much feedback on that parade that I don't think we are ever going to go back. We are listening to students and parents on that; the feedback was overwhelming in favor of that parade," says Principal Quarnberg. 
The graduation parade idea was fostered to create a memorable graduation experience for the class of 2020 seniors. As we can see, it was a huge success and deemed more enjoyable than the traditional amphitheater graduation. This idea is being adapted for this school year, however, the senior year that the class of 2021 has been afforded does not meet the expectations of the "highschool experience" that students dream of. We have not had the opportunity to attend school dances, football games, assemblies, and classes in the way that we are used to. There have been regulations on every event, limiting how many students can go, and countless events have been canceled due to fluctuating COVID case numbers. Most teenagers would say that the ideal experience for a high school senior is comparable to that of the stereotypical movie "High School Musical", and despite everyone's best efforts, that standard is not something we have achieved this year.
Other than having a prom, which has been promised by Principal Quarnberg to be happening on April 17th, graduation is the event that all seniors look forward to not only during their last year in school, but for their entire high school career. This year, in order to make up for the lost experiences throughout the school year, we speak for the entire senior class when we propose that the class of 2021 graduation ceremony is held on the turf of our very own Mustang Stadium. 
In October of 2020, Herriman hosted the first high school football game since the pandemic hit. At that time, a vaccine for COVID had not been developed yet, and case numbers were in dangerously high zones, so the stadium was only filled to 25% capacity, a little less than 1,000 spectators. For reference, our stadium's maximum capacity is 5,000 people. 
Since then, restrictions have met their climax, and are now starting to come to an end, as we can see by the mask mandate being lifted on April 10th. This is a sign that not only are restrictions being lessened, but the vaccine is starting to make a difference and reduce the number of COVID cases for good. If the restrictions on masks and gatherings are coming to a close, then the number of people allowed in our football stadium should also be altered to a more appropriate level fitting the health situation. 
By the time graduation comes in June, if the stadium was limited to even 50% capacity, each student would be able to have 2 audience members attend. This is well within the realm of reason, as we can see stadiums such as the Vivint Home Arena, the Utah Jazz home court, is opening up to maximum capacity, a little under 20,000, by May 2021. Furthermore, if graduation took place in the football stadium, the event would be entirely outdoors, which would reduce risk to an even more minimal level. 
One of the downfalls to the situation we are in, is that the number of audience members per student will have to be limited, even if the football stadium is allowed to open to 75% capacity. The good news is that giving seniors a graduation parade leading up to the football field ceremony will allow friends and extended family members to participate in their senior's special day. The amount of people allowed to watch the parade is nearly unlimited, as the 2+ mile parade route is more than enough space to accommodate a full 'audience'. 
The opportunity that Herriman High School has to offer their seniors a memorable graduation experience is within the realm of possibility. The appropriate safety measures can be met if it is planned with careful consideration. The desire for a graduation parade and ceremony among the senior class is unanimous. Every person we interviewed was excited about the idea of having such a special graduation to end a disappointing year. Let's make these last few months of high school count!