With Football Season Over, What's Next?
The student section is surprisingly empty at winter and spring sporting events compared to fall's football games
When football season comes around, students at Herriman will pack into the stadium like sardines, but when it comes to other sporting events, the bleachers are empty. The idea of football games and high school go hand in hand, so it is expected that they are the most heavily attended by teens. However, there are countless teams out there that work tirelessly to compete at a high level and to represent Herriman, yet they only get a small fraction of the support that the football team receives. 
For the average home football game, over 1,000 spectators fill in Herriman's side of the stadium. There is a large discrepancy between that number and those in attendance at winter sports (wrestling, boys/girls basketball, swimming) as well as spring sports (baseball, softball, tennis and track). While boys basketball still gathers a good amount of support, the crowd is nowhere near the size of a football game. The student section for the majority of other sports are generally sparse, consisting largely of the close family and friends of athletes competing. 
Everybody has been part of something or performed at some point in their life, and it is always encouraging to see people cheering you on and supporting you. To look up from the court to see only a few spectators supporting you is demoralizing and makes your passion seem irrelevant to the rest of the school. Some of the affected athletes at Herriman weighed in with their insight and feelings. 
Evan Hofheins, a senior and tennis player, commented, "People just don't care about tennis. After four years, you kinda just get used to no crowds." 
While the attendance issue bothers some players, others don't seem to have a problem with it, trying to focus on the competition instead.
"Maybe it makes less pressure, but when I wrestle, I'm not really focusing on who's watching," said Oscar Madison, a junior on the wrestling team.
No matter how it affects the athletes competing, the lower attendance is a poor reflection on Herriman's school spirit and is hardly an example of our theme, "united." There could be any number of reasons for students not coming, whether it falls on an inconvenient day, if it isn't interesting to them, or if they simply don't know that much about the sport. The fact of the matter is, students should be willing to overcome those obstacles, just like they do in order to get to the football games. 
As the winter sporting seasons get into full swing, students should try to get out of their comfort zone and attend more obscure events. It's a great place to socialize with friends, meet new people and learn about a new sport. Whether you make it to one match, race, or game, it would be a good show of support to the teams at the high school and show them that the student body is proud of its athletes.
About the Writer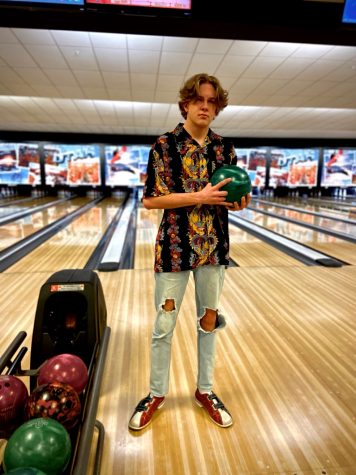 Will Mangum, Writer
I'm a senior so that's fine I guess. I joined newspaper because Kayla told me and my favorite beat is A/E because I like music and stuff. I'm taller...