Business as Usual
A highlight on Utah's local businesses on handling a global pandemic
With coronavirus on the rise, small businesses everywhere are feeling an impact, whether positive or negative. Oftentimes local businesses in Utah are full of individuals who've worked hard their whole lives to make a living off of commissions and support from their towns. Utah's own creative producers are speaking out about the coronavirus and what it's done for their business. Seamstresses, artists, shop owners, etc. are fighting to unite their cities even amidst the possibility of lonely months in quarantine. They hold a huge part in keeping the local economy afloat during times such as this. Making and selling new products, reducing prices, and promoting their love and support for each individual who crosses their path are all a part of what these entrepreneurs are all about. 
Tyllar Hubbard is the owner of Sti.tch.ed, a sewing and alterations business. She started her business around 2016, as a side hustle to make more money on the side of other work. She instantly found her passion for her own small business, enjoying being her own boss and working at her own pace. With the worldwide Covid-19 chaos on the rise, her business is booming, despite what some may assume. Hubbard explains, "During this pandemic, my sales for face masks have been through the roof. I've sold about 250 masks in only six days." She's spent long hours making handcrafted masks for the community. So much so, she is halting orders for a short period of time and will contact those who wish to buy from her as soon as she continues taking them. 
Moby Thrift started in 2017 and is owned by a lady named Lucy Hutchins. Despite much of the community being in the quarantine of their homes, Hutchins is proud to say her business is continuing to run smoothly. "Our most successful commissions are probably vintage tees or name brand streetwear… business has carried on as usual! We have some amazing customers we are really grateful for." The significance of a supportive community proves to have the ability to sustain small businesses such as this one. 
Jade is a local artist who sells digital art through her Instagram account @toverstaf.foxx. She explains her passion by saying, "I've been studying and working on my craftsmanship since I was a kid! I do digital portraits of families, people, pets, anything the mind can imagine!" She's hoping to expand her business by producing shirts, enamel pins, bags, and prints in the future. 
Each artist's heart beams with pride each time they sell a new item. For them, their creative work is not only their job, but it is also their lifestyle. As always, tips are appreciated. They are grateful for each and every opportunity to learn and grow as they sell their products to spread the joy they get from manufacturing the products. Politician Bob Beauprez once said, "In America, a small business is a big deal." Especially during Covid-19.
Leave a Comment
About the Writer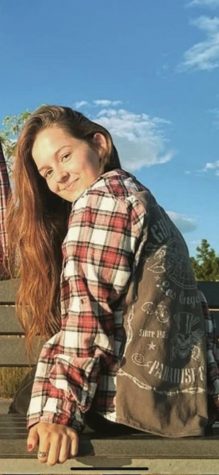 Kayla Miller, Editor-in-Chief
I'm the Editor in Chief this year for the school newspaper as a senior, and my favorite beat is Op/Ed. I joined the newspaper as a sophomore because...