Scholastic Art & Writing Awards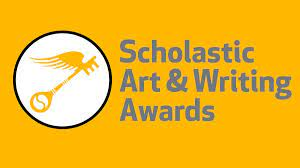 The Scholastic Art and Writing Award is a contest in which students and people around the world can submit their visual or literary work. This contest is a great way for students and others to publish their work and get recognized for it. Since 1923 the Scholastic Art and Writing Award has been recognizing and encouraging students to show their work and be as creative as they can be. 
SAWA's (Scholastic Art & Writing Awards) goal is to help students and others to be creative and make original ideas that stand out from any other work. SAWA says, "We celebrate creative teens locally and nationally with awards, exhibitions, publications, and scholarships." They want work that blurs the lines between genres and challenges the notions of particular concepts and can convey strong emotions. Any work that has a unique, powerful, and innovative point of view is what the judges want the person to reach in their work. 
On September 1st every year the Scholastic Art and Writing Awards opens students accounts for them to submit their work. The deadline for getting in work is in December or January based on where the student lives. Around January they announce the winners for the regional awards. For regional awards a student can win what they call a Gold key, Silver key, honorable mention, American visions nominee, or the American voices nominee awards. Then in March they announce the national awards, "For National awards Gold Key entries are automatically considered for national awards, including Gold Medal, Silver Medal with Distinction, Silver Medal, and scholarship awards." In June they hold the national award celebration.
In the national awards celebration they honor those who have won. They celebrate in New York City with a few other guest celebrities to help congratulate them. The entries for the awards are chosen from the foremost leaders of visual and literary art. They can't see age, gender, ethnicity, or where you're from as a way to avoid biases. Some famous authors who have been judges in the past years include Langston Hughes, Robert Frost, Judy Blume, Billy Collins, Paul Giamatti, Francine Prose and many others.
SAWA also provides the person who wins the contest a scholarship with a money award. The New York Life Award is an award they give to the person who creates a work that shows grief, loss, bereavement and can win a $1,000 scholarship. The One Earth Award is the award a person gets for submitting their work on climate change and there is the possibility to win a $1,000 scholarship. The Herblock Award for Editorial Cartoons is the award for someone doing a cartoon on current events they also have the possibility to win $1,000 in scholarships. They have many more scholarships; it just depends on the work the student or other person is submitting. 
The Scholastic Art and Writing Award also provides students with a program for poetry. National Students Poets Program is a course for students in grades 10 – 11. The Scholastic Art and Writing Award states that, "The Program believes in the power of youth voices to create and sustain meaningful change, and supports them in being heard." The National Students Poets Program is pushing for their students' work to be seen by others. Students can apply to the program through winning a gold or silver award from The Scholastic Art and Writing Award. The students do a year's worth of work; towards the end of the year the poets/students put their best work into a chapbook, a sort of writing portfolio.
The different categories you can apply for are art categories, writing categories, architecture and industrial design, critical essay, Ceramics and glass, dramatic script, comic art, flash fiction, design, journalism, digital art, humor, drawing and illustration, novel writing, editorial cartoon, personal essay and memoir, and many more. 
Leave a Comment