Unique Jobs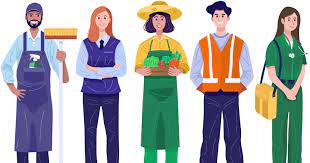 Once summer break begins, students will begin their search for a job. Most rely on fast food places such as Wendy's or Subway to gain some cash. Some even start a temporary retail job at Target or Homegoods. But what most students are unfamiliar with is that there are more unique and worthwhile job opportunities right around the corner. Currently, there are many unique businesses offering jobs to hard-working teenagers in the same region as the stereotypical summer jobs, with better pay.
Currently, one of Utah's well-known escape rooms and haunted houses, Castle of Chaos, has put out a notice for open casting auditions. These auditions are about twenty minutes long, and they run until mid-August of this year. They are open to all ages and offer up to $18 an hour. Castle of Chaos Escape Rooms & Haunted House is located in Midvale, about 24 minutes away from Herriman High School. A former actress employee mentioned on Indeed, "It's a really good place to work at and the people there are amazing. They help you feel included and help you succeed at your job to the fullest." The actress stated that she would recommend this job, and another volunteer stated that it has been known to teach the behind-the-scenes workings of security, management, acting, and construction/set crew. These are very rare opportunities offered in many jobs, and especially more difficult for high school students to come by.
Now, it is common for teenage students to apply for a restaurant position at a diner or a fast-food chain, but most of those businesses are not located in a historic 1800s flour mill. Archibald's Restaurant, located in Utah's unique Gardner Village, was built in 1877 by Archibald Gardner, one of the original pioneer settlers to the Salt Lake Valley. The mill is even listed on the National Register of Historic Places. Archibald's is offering host and busser positions up to $15 an hour. They include tip sharing and accommodate flexible scheduling. 
Another rare and exciting job opportunity can be found in a building containing 4,500 animals and a 40ft deep underwater shark tunnel. The Loveland Living Planet Aquarium in Draper, Utah is offering a few job opportunities for teenagers in the area. If you are over the age of 16, they are offering a few positions that may be right for you, such as a Virtual Reality Attendant position. This is their brand new attraction that uses virtual reality to send visitors to different virtual destinations such as the rainforest, the deep ocean, the center of the earth, inside a human cell, and as the aquarium staff said, "Just about anywhere else you want to go." This position would require helping guests experience voyages virtually to different ecosystems found around the earth while being responsible for staying in character. 
If you are looking for a job this summer, try to keep your eyes open for worthwhile ones. There are many other great opportunities out there that are not listed above that are much better than serving hamburgers or folding napkins.
Leave a Comment