Life of a Lunch Lady
What is life like on the other side of the counter?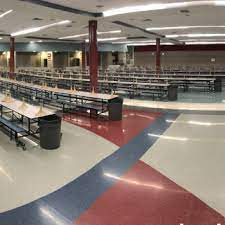 Whether it's A or B lunch, this is everyone's favorite time of the school day. Every day at Herriman High you can get a full meal for just $2.00. Have you ever stopped to think about who is getting the food to our trays? I put it upon myself to interview some of our lovely lunch workers at Herriman to find out.
Our lunch ladies love to interact with the students and get to know everyone. I was intrigued by their answers and found myself asking more about their jobs. What does an average day of work look like for them? One of our lunch ladies, Teresa, comes in every morning at 5 a.m. to start making bread and prep for the meals of the day. All baked goods are made from scratch and baked fresh every morning. Krista goes on to say, "Cinnamon rolls are made from scratch, they also have to be made in the morning before breakfast… they're made that day." Making bread from scratch usually takes around 3 hours, not to mention having to make other goods like cookies, muffins, etc. which are also frosted fresh every morning. "We frost all the pink cookies in the morning…they aren't frosted the day before." As far as prepping for lunch, all veggies at the salad bar are fresh and are cut up for us every day.  Being a lunch worker is definitely more work than what we are led to believe. 
I also asked the workers how we, as students, could make the cafeteria a better environment. Take advantage of our school lunches. They brought up that a lot of students leave to go eat fast food, when at school you could get a full meal made with fresh ingredients with multiple sides for only $2, while at Subway, for example, you could get the same meal for almost $15. With inflation, it was hard to manage the price so low, which is why the lunch workers encourage those to take advantage and buy school lunches.
At Herriman, we have the most amazing and hardworking staff. Let's work together to keep our cafeteria nice and remember to say thank you to our amazing lunch ladies.
Leave a Comment