2020 NFL Draft Prospect Rankings
The 2020 NFL Draft starts tonight, Thursday, April 23rd and will go until Saturday, April 25th. During that time, a total of 225 prospects will be selected. With teams needing certain positions and players being questionable picks due to injuries and off the field factors, this draft is going to be a good one. 
Given all the hype, there are a total of 38 wide receiver prospects coming into this draft, followed by 32 cornerbacks. In terms of schools pumping out players into the draft, the LSU Tigers have 14 prospects on the list, followed by Ohio State who has ten and  Alabama with nine. With that being said, here are my top five prospects for the 2020 draft: 
1. Chase Young, EDGE, Ohio State (JR, 6' 5", 264 pounds)
While he won't be the first pick in the draft, he certainly is the pick that would work on any NFL team's roster. While his impact goes beyond the box score, he led the nation in sacks (16.5, 1.38/G) and forced fumbles (six, 0.5/G) despite being suspended for two games by the NCAA for violating the NCAA by taking a loan to pay for his girlfriend's flight to watch him play. 
2. Joe Burrow, QB, LSU (rSR, 6' 3", 221 pounds)
Burrow led the LSU Tigers to an undefeated season, facing seven top-10 opponents and throwing an FBS-record 60 touchdowns and rushing for five more. The Heisman-winning quarterback shows tremendous poise in the pocket. However, during the NFL Combine, there were questions of hand size, with his being nine inches compared to an average 9 ⅞ inches for NFL quarterbacks. 
3. Jeffery Okudah, CB, Ohio State (JR, 6' 1", 205 pounds)
Okudah has definitely proved himself as a lockdown corner while playing at Ohio State. He led the team in interceptions with three and in passes defended with 12. He is looking to be the first cornerback selected in the top-three since 1997, when Seattle took Shawn Springs. 
4. Tua Tagovailoa, QB, Alabama (JR, 6' 0", 217 pounds)
Tagovailoa says he "feels 100%," and looked great during his virtual pro day. The biggest worry from teams is recovery from his hip injury he received while playing Mississippi State on November 16th, 2019. When Tua's healthy, he has a quick release and can throw the ball with elite accuracy, anticipation and touch to all levels of the field. 
5. Ceedee Lamb, WR, Oklahoma (JR, 6' 2", 198 pounds)
With experience lining up both inside and outside, Lamb has exceptional ball skills, along with the ability to contort his body in the air and adjust to the ball. While he isn't the fastest receiver out there, he is dangerous after the catch, with great field vision and the ability to make tacklers miss. 
Leave a Comment
About the Contributor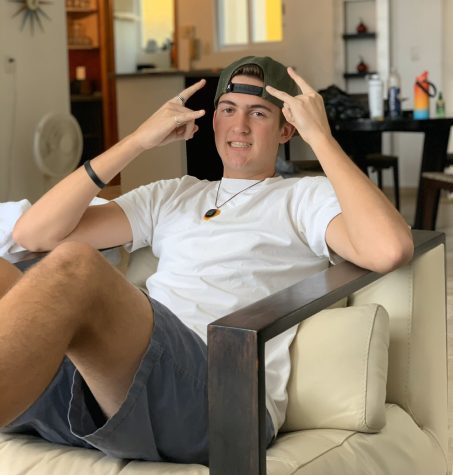 Stillman Ballstaedt, Sports Editor, Writer
My favorite area to write in is sports. I joined the school newspaper because I wanted to get some practice in sports writing and to express my opinion...