Mrs. Hartman Changes Lives
The joy of one teacher and thousands of students
Walking down the halls, high schoolers oftentimes hang their heads low to look at text messages, a new playlist, or even the floor as if they are allergic to socializing. However, when Mrs. Hartman walks by, she's sure to turn frowns into friendly grins. Not because she is proud of a student for a 100% test score, or because someone read one of her recommended books. Because she knows the ins and outs of each student's experience; what ignites their passion for life, the darkest trials they are working to manage, and all sorts of in-betweens. Sharing with each class hilarious jokes and quirky superstitions such as the age old "Rabbit Rabbit", (said first thing in the morning the first day of each month for an extra measure of good luck,) she is a mentor adored unanimously. Many times, the best part of a student's education is a teacher who has cared about them inside and outside of the classroom. Mrs. Hartman is exactly this for a plethora of past students. 
Each year, she'd share the poem "Invictus" by William Ernest Henley as a way to keep her students going. Hartman often used the battling words of encouragement as a parting gift to send her students off into the world with a head start. Much of the English curriculum would turn into life lessons able to last lifetimes as opposed to the hour and thirty-minute class period. Hartman made sure to share her own experiences of life, the good and the bad, to ensure her students felt comfortable in the safe space she was giving them. Trinity Ross, who graduated from Herriman High, recalled, "When I was in her class I was going through an extremely hard time. She always made sure I was okay. She always put her student's mental health before anything and it helped me so much." No matter the issue, Hartman is sure to have advice on the matter. She is as experienced as she is caring, and it shows in her ability to teach with unconditional care.
The powerful words and warmth of a teacher can go so long as to influence the futures of their peers and students. "Mrs. Hartman honesty is the reason that I am becoming a teacher. She is so passionate about what she does and she makes her students feel important and that they can make a difference in the world.. I loved talking to her about whatever was going on in my life," says Aubree Jacobsen. To have the impact of a teacher is to teach school, but also to teach loving to learn. Many of Herriman High's students acknowledge that Mrs. Hartman can do both, and in a way that makes doing so simple. 
Several dozens of past high school and middle school students that were once in the care of Hartman revisit their English days with her. They refer to them by describing the fact that she knew all the little details, which ended up meaning the most. That she was able to make a difference in their lives, and that they, in turn, are now motivated to follow her lead. Holly Chase, a student Mrs. Hartman taught over a decade ago, claims, "She was hands down the best English teacher I've ever had… It was a long time ago, but you don't ever forget the good ones!" Surely, no one will.
Leave a Comment
About the Contributor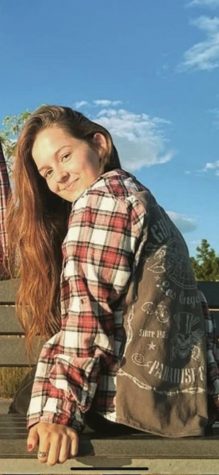 Kayla Miller, Editor-in-Chief
I'm the Editor in Chief this year for the school newspaper as a senior, and my favorite beat is Op/Ed. I joined the newspaper as a sophomore because...