Vaping in Herriman High and its Negative Effects
The Salt Lake Tribune-(Leah Hogsten | The Salt Lake Tribune) Stuart Hudnall, Vice-Principal at Herriman High School talks about the vaping products the school has confiscated from students in this year alone. Legislators, health officials and health advocates held a news conference Jan. 29, 2020 at the Capitol to outline anti-vaping measures they hope to pass during the legislative session.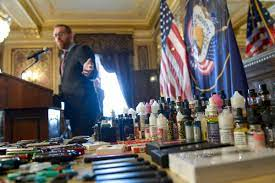 The vaping industry started to gain popularity around 2010 and began promoting different types of flavors and designs to make it hip and cool to entice young people into their product. Teens were specifically targeted through social media and its influencers who get sponsored by these companies. Making claims that they don't have health risks, and getting caught in a state of mind that it's perfectly fine to do and nothing bad can happen.
Questioning Herriman students on this subject have resulted in such responses: "It doesn't have enough nicotine to make them addicted and I can stop whenever I want." Still plagued by the idea that they don't carry any health risks but the reality is "[vaping can cause] nicotine addiction and poisoning and an increased risk of heart attacks and strokes," explained drugwatch.com. Further solidifying the point that nicotine addiction is a very real factor When vaping. The long term effect of E-cigarettes is still unknown but studies from KidsHelath.org say, "It can cause addiction, slow brain development in teens, affect memory, concentration, learning, self-control, attention and mood." 
Following this, the FDA labeled the situation as a pandemic in 2016, and Juul's rapid growth coincided with what the U.S. Surgeon General in 2018 called an "epidemic of youth e-cigarette use." News stories and lawsuits around the country detailed health problems and stints in rehab for nicotine-addicted teens hooked on 'Juuling.' Trying to stop the plague that affected the older generation of people that were targeted by everyday advertisements of cigarettes that say they are healthy and make you look young.
Years later, the older generation have always regretted the decision they made to smoke.
These cigarette companies knew that their product was killing people, but all they could see was the profit they were gaining. "As of 2020, the tobacco industry is worth almost 800 billion dollars and approximately 6.3 trillion cigarettes are smoked globally every year' says cdc.gov.
The environmental damage and second hand smoking that is affecting our environment on the daily.  
Herriman has many cases of its students vaping. The administration has had buckets full of vapes they have confiscated in the past. Administrators and police said vaping remains a top concern for Utah's schools due, in part, to how accessible devices are and how easily they can be concealed. "[Vapes] are really easy to get," said Detective Larsen, a school resource officer with the Herriman Police Department.
Principal Nathan Marshall of Providence Hall joined the principal of a nearby junior high school, Larsen, and parents for a meeting where the number of vaping products presented far outnumbered the attendees. "It is something that as a community we need some help with," said Marshall, who has worked at Providence Hall High since it opened in 2014.  "We find that students who are engaged in these kinds of activities tend to struggle not only at school but at home."
Being a student in Herriman, vaping doesn't get enough attention on the amount of students using them and how it will affect other students into doing them as well. Without educating students more about nicotine products the same thing that happened with cigarettes In The 1900's That still plague so many adults from their younger years will only happen again to a new generation.
Leave a Comment